Better Know A Badger: Travian Blaylock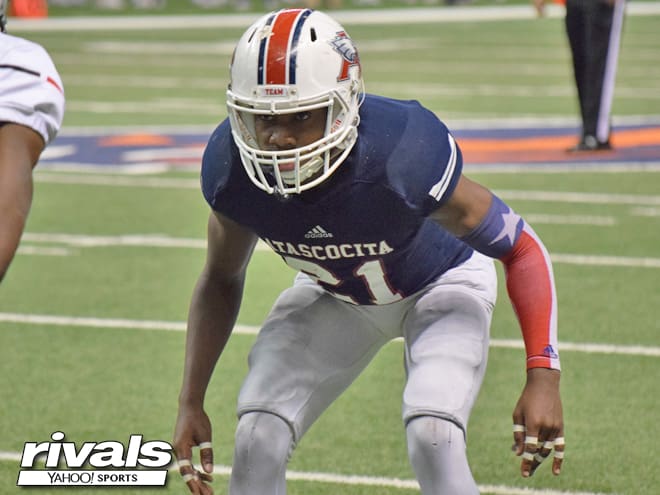 How does it feel now to have officially sent in your letter of intent and be on the verge of joining the program this month? Did signing your letter of intent change how you followed the team or anything like that?
Travian Blaylock: Knowing that that's the right school for you, knowing that it's all finalized, it really just brings about some excitement. Just being able to know where you're going and follow them and see how the program is doing - I was paying attention throughout all of their spring camp and some of the guys. It's exciting to be able to see where you're going to school and how those guys are trying to get better every day and how you get to be a part of that soon.
Did you enjoy the recruiting process? Or was it just one more thing to have to juggle in addition to school and football?
Travian Blaylock: It's not easy at first, but it's just something you've got to do. It was a relief to wrap things up, though, and I'm excited to be a part of this program.
What was it about the Badgers that made them stand out to you when you initially decided to commit?
Travian Blaylock: I really think it was the visits that I took up here. I went to both Stanford and Wisconsin, and it really came down to both of those schools. I really think it was just being able to be around the coaches and coach (Jim) Leonhard in particular. I think I just came up here to Wisconsin on that visit and see the facilities and the whole coaching staff and I really felt it was a match for me right away. Spending time with coach (Paul) Chryst, coach Leonhard and coach (Ted) Gilmore, my recruiter, and getting to know them and them to know me - it was just a feeling like I was really wanted up there. It was a good feeling to have - I think that's what pushed them over the top.
Once you had made your decision did other schools reach out and still try and recruit you? Or did they kind of back off and respect your decision?
Travian Blaylock: Most schools backed off for the most part. I got a few congratulations texts from the coaches. I think for a lot of these coaches it's about seeing the players themselves find the right fit for them. There weren't that many schools that kept in touch after that - they respected my decision and moved on from there.
Do you remember when it was that you realized that you could play football for a Division 1 school?
Travian Blaylock: I really felt like it had to be after my junior year. I felt like there were a lot of people getting offers - and I don't want to say I was getting discouraged or anything but I was kind of like 'Where's my offer?' But after my junior season I was like 'If it's going to happen it's going to happen.' God's plan - he's going to make happen what's going to happen. But then in about February I got a call from Arkansas State for a scholarship offer and I knew I was going to be playing Division 1 football somewhere. From there it just kept rolling and I am where I am today.
Are there any cornerbacks or defensive backs in general that you like to watch in the NFL right now? Who do you try and model your game after?
Travian Blaylock: I'm a Chiefs fan, so I like watching Marcus Peters - even though he's on the Rams now. But i also like watching Xavier Rhodes, Patrick Peterson - I feel like they're kind of built like me. Taller guys, longer guys. They're great DBs who know what they're doing at the corner position and do their job. I think Rhodes doesn't get enough credit for how good he is in particular. I think he's a lock-down guy and doesn't get enough credit.
Did you get to talk with Jim Leonhard much during the recruiting process about his NFL ties and how he coaches the position? How excited are you to get to work with him this year and beyond?
Travian Blaylock: One of the things he did tell me - he's not that far removed from playing in the league. I feel like with his experience in the NFL and being so young, he has something to offer as a coach that's hard to come by. He knows what it's like to play in the NFL at the highest level and what that takes. For him to come out of the league so recently, I think he has the best advice for me to be able to learn that NFL style of play.
Finally, what are you looking forward to the most about going to college and joining the team this summer?
Travian Blaylock: I think the thing that I'm looking forward to the most is just bettering myself. With the coaches they have up there it's going to be a good opportunity for me to learn as much as I can and become the best player that I can be and become the best person that I can be. I think the coaches really stress both of those and that it will be a really good opportunity that will set me up for life.
___________________________________________________
John Veldhuis covers Wisconsin football, basketball and recruiting for BadgerBlitz.com on the Rivals.com network. Follow him on Twitter at @JohnVeldhuis.