Better Know A Badger: Nakia Watson
Wisconsin's 2018 signing class will be joining the team full-time in June, so BadgerBlitz.com will be checking in with the team's incoming freshmen as they make the jump from being high school prospects to a Wisconsin student-athlete.
Nakia Watson, a three-star running back from Austin, Texas, spoke with BadgerBlitz.com about how he's feeling now that his career with the Badgers is right around the corner. Our questions and his answers are included below.
Miss an interview? Catch up here:
QB Chase Wolf / LB Jack Sanborn / DB Alex Smith / TE Jaylan Franklin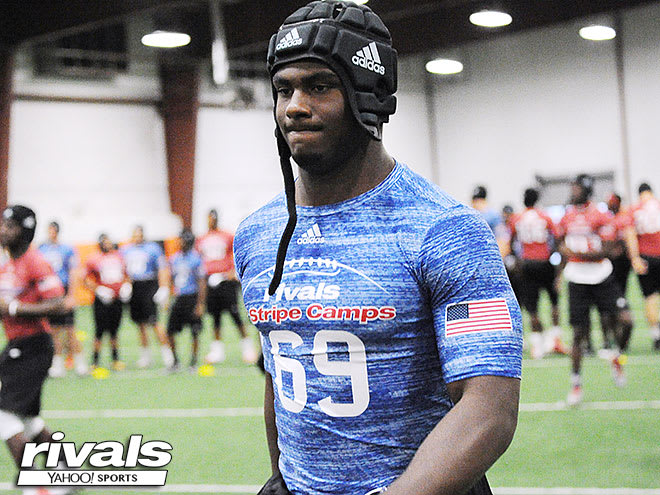 How's life been like for you since you made things official and sent in your letter of intent?
Nakia Watson: It's been a cool experience. There's a lot more Wisconsin fans out there than I expected - everywhere I go people are like 'On, Wisconsin.' So I mean, that's a good feeling - knowing that there are people here in Texas that are Wisconsin fans that are pulling for me.
Was that a big relief to officially put an end to your recruitment and fax in that letter of intent?
Nakia Watson: Yes, it was a real stress reliever - both for myself and for my family. As soon as I stepped on to Wisconsin's campus I knew that's where I wanted to go, so it's a good feeling knowing that I'm going to a place where I feel so comfortable.
What was it about Wisconsin in the end that made you want to commit to them and become a Badger?
Nakia Watson: Some schools when I visited you could tell that the stuff that they were doing was part of the act. But I feel like the players and the coaches at Wisconsin and all of the staff were really genuine. It wasn't part of an act. I felt like Wisconsin was a lot like Austin - it's a college town. Everywhere you go it's all about Wisconsin, Wisconsin, Wisconsin. That's what I like to be around, not just a big town but a college town.
Were there a lot of schools who tried to recruit you and stay in touch after you committed? Or did people generally respect your decision and leave you alone?
Nakia Watson: A few schools stayed in touch but after they saw that I was committed they would still talk and try but they already knew that I wasn't going to decommit. It was kind of like at that point the conversations could just be a little awkward. There wasn't much we could say to each other because I had already committed to Wisconsin.
Do you remember when it was that you realized that becoming a Division 1 college football player was a real option for you? Was it when you got your first scholarship offer?
Nakia Watson: There were a couple moments where I knew I wanted to go and play Division 1 football. Last year during my junior year I didn't get an offer until about halfway through the season but before that I had a state of mind that I wanted to go and play D1 football.
How much did Wisconsin's history of featuring running backs play in to your decision making process?
Nakia Watson: That played a big role. That's the position I play. I've never played in the pro style before, though, we were mostly just running out of the spread. I'm a downhill runner and that's the offense they run - I'm excited for that to play a big role in my game, to start running in the I-formation.
And obviously you got to see a true freshman in Jonathan Taylor come on to the team and make a huge impact in his first year - does that give you any extra motivation for this season?
Nakia Watson: It's definitely motivating. There's definitely a feeling that if he did it, why can't I?
Have you reached out to Jonathan to get any tips on how to come in and hit the ground running - so to speak?
Nakia Watson: We were just talking yesterday - he's been a good resource. If I have a question about the playbook I can text Jonathan or I can text coach Settle and ask them. I can ask them 'What is this play?' and Jonathan will type out a whole paragraph of how it's run, how the keys look, where you're supposed to go and what the backup options are - he's being a real teammate. I'm looking forward to playing with him.
Who is your favorite college or NFL running back to watch right now?
Nakia Watson: My favorite running back right now is Todd Gurley. I love watching him. Even though he didn't go to Wisconsin - just the type of running he does and how he does it, I feel like he's influenced me a lot. I've been watching him since I was about 10 years old - I want to have the mentality that he has.
Finally, what kind of goals do you have for yourself for this first season with the team?
Nakia Watson: My goal has always been to help the team out the best way you can. And other than football another goal is just to get your work done, don't wait until the last minute. I know that football isn't going to last forever so I need to take care of my academics too.
___________________________________________________
John Veldhuis covers Wisconsin football, basketball and recruiting for BadgerBlitz.com on the Rivals.com network. Follow him on Twitter at @JohnVeldhuis.