Better Know A Badger: Mason Platter
Wisconsin's 2018 signing class will be joining the team full-time in June, so BadgerBlitz.com will be checking in with the team's incoming freshmen as they make the jump from being high school prospects to a Wisconsin student-athlete.
Mason Platter, a three-star outside linebacker from Menomonie, Wis., spoke with BadgerBlitz.com a few days ago about how he's feeling now that his career with the Badgers is right around the corner. Our questions and his answers are included below.
Miss an interview? Catch up here:
QB Chase Wolf / LB Jack Sanborn / DB Alex Smith / TE Jaylan Franklin / RB Nakia Watson / OL Michael Furtney / DL Boyd Dietzen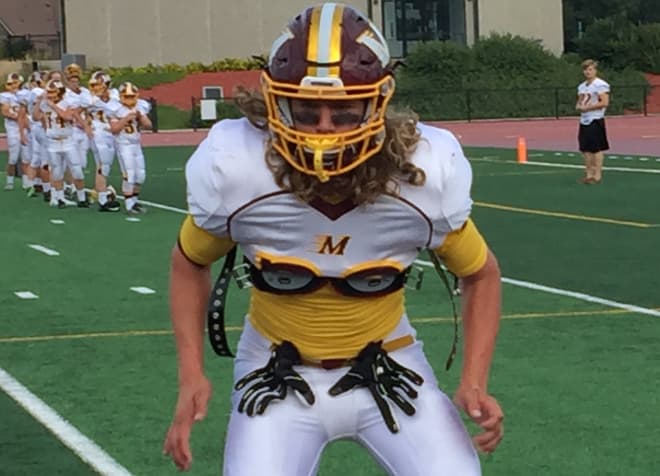 You committed to Wisconsin pretty early in the recruiting cycle - how did it feel to make things official last December and send in your letter of intent?
Mason Platter: That was a pretty big day for me. I wouldn't say it was a relief - I'd say the day I committed was more of a relief to me. But it's nice to put pen to paper and make everything official.
Do you remember what it felt like the day that you committed?
Mason Platter: That day was very hectic. I remember my high school coach called me down to his office and I told him that I was ready to commit. Right away I texted Alex Fenton because he was committed to play there (in the class of 2017). I was in the locker room afterward and I could hear these big heavy feet flying down the hallway and he comes sprinting in to the locker room and jumped into my arms - he was fired up for me, too. It was a really special day - I'll always remember it, to be sure.
Was Wisconsin always the place that you wanted to go to as an in-state kid? Or did you have to kind of make it a level playing field when teams really started to show interest in you?
Mason Platter: As a kid I always wanted to go an play for Wisconsin and eventually go on to the NFL. But when I started to be recruited I tried to throw away all of my old biases and go in to everything with an open mind. But in the end Wisconsin was still the best fit for me.
Was it hard then to not commit right away after the Badgers offered you a scholarship? Did you have to kind of slow yourself down before pulling the trigger?
Mason Platter: I wanted to commit on the ride home, but my mom said that I should sleep on it and we'd see how I felt the day after. But I knew I was ready to be a Badger.
You've also had to wait a while to get on campus after signing your letter of intent - is it starting to feel real now that you're close to actually joining the team?
Mason Platter: I'm not sure it's really sunk in all of the way. Some days it hits harder than others. It's hard to put in to words.
Did you enjoy the recruiting process? Or was it just one more thing to have to juggle in addition to school and football? Did committing so early take some of that weight off of you?
Mason Platter: Oh, absolutely. Those couple of months where I was being recruited, it was really stressful. A lot of people don't realize that about the recruiting process. They see kids going on visits and don't realize the stress that they're under. It's a huge decision that they are making - one that has a huge impact on their life. Making that decision early really took that burden off of my shoulders.
What do you think you'll remember about playing high school football in Wisconsin? Are there any games that stand out now or anything like that?
Mason Platter: I'm always going to remember my teammates and the long hours we put in over the summer, working out in the evening in the fall and playing all of those games. One that sticks out to me in particular was when we played against Eau Claire Memorial - against Cormac Sampson's team. I remember after the game everyone was talking about how good Cormac was - and we didn't really know anything about him or anything. We had just heard that number 84 was super good. Obviously he was kind of a rival - I didn't know him, but in my mind I was like 'I don't like him.' But then he committed to UW, too, and we started talking and we're really good friends and now we're going to room together over the summer. It's just funny how those things work out sometimes.
Was there a moment when you realized that playing Division 1 football was a real option for you? Or did it kind of sink in after you got that first scholarship offer?
Mason Platter: It was really after my junior season - my high school coach sat me down with my parents and kind of went over the opportunity I had in front of me. That was when the opportunity became real to me.
Did you have a feeling that you would be able to go to a Division 1 school from the start?
Mason Platter: I figured I would play college football, but I didn't know at what level. I was hoping to maybe get a chance at a bigger school, but I would have been happy with anything - just to keep playing.
Who is your favorite player to watch right now, either in college or the NFL?
Mason Platter: One guy I always love watching is J.J. Watt - coming from a town in Wisconsin. It's cool to see his intensity and the heart that he brings to the game, it inspires me.
Do you have any goals for yourself for this upcoming season?
Mason Platter: I think that a goal you always have would be to get better every day. They always say that you're either getting better or getting worse every day. You're not staying the same. I always want to be progressing. But this time next year I'd love to be battling for a starting spot. I know that's a lofty goal, but you've got to have something to shoot for.
Finally, what are you looking forward to the most about joining the Badgers?
Mason Platter: I've spent the last 18 years of my life in Menomonie. I think it's time to get away and experience new things. It's a great town and I love it, but I think the world has a lot more to offer.
___________________________________________________
John Veldhuis covers Wisconsin football, basketball and recruiting for BadgerBlitz.com on the Rivals.com network. Follow him on Twitter at @JohnVeldhuis.