Better Know A Badger: Jaylan Franklin
Wisconsin's 2018 signing class will be joining the team full-time in June, so BadgerBlitz.com will be checking in with the team's incoming freshmen as they make the jump from being high school prospects to a Wisconsin student-athlete.
Jaylan Franklin, a three-star athlete from Carlson High School in Gibraltar, Mich., spoke with BadgerBlitz.com about how he's feeling now that his career with the Badgers is right around the corner. Our questions and his answers are included below.
Miss an interview? Catch up here: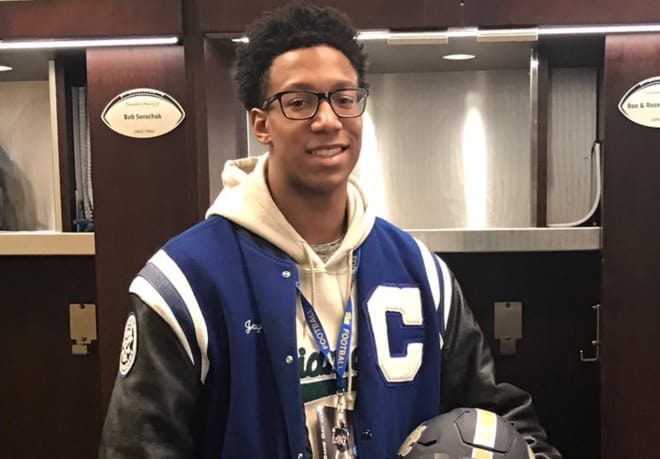 What was it like for you to officially wrap up your recruitment and send in your letter of intent at the end of last year? Have things calmed down a bit for you since then?
Jaylan Franklin: I think the major thing was being done with the recruiting process and knowing that it's finally done and you know where you're going. It really shifted my focus, to be honest. It meant a lot that I could be so comfortable with making that decision. There were times where I couldn't see that process coming to an end, and then when it finally did it was just a relief. I was just so ready and so excited to get to Wisconsin. I went down to Miami for the bowl game and even at the bowl game people were saying, 'Aren't you Jaylan Franklin, the one who's committed to Wisconsin? How do you feel about coming and playing here?' It was so surreal. It was a huge showing by Wisconsin fans. It meant a lot to me, the whole thing.
Did you enjoy being recruited? Or was it something you had to get used to before you could get comfortable with the process?
Jaylan Franklin: At first it was fun, just being a kid and then you've got all these college coaches and people showing up for you. When I was getting recruited it was just one by one. It was a mental focus shift, adding that to school and football. It was definitely fun at a point - I met a lot of great people and other players who stood out to me. I think the most fun part of it was getting to know the kids at the camps who are going to play at other Big Ten schools.
What was it about Wisconsin that helped them stand out from the crowd? What was it that made you want to be a Badger?
Jaylan Franklin: I think it was just the family atmosphere - and I know a lot of people say that. But it was just a different kind of vibe if you know what I mean. The way that they recruited me, it stood out. It was always something different. I think it was so important for me to go somewhere that I was meant to be instead of somewhere I wanted to be. I could have seen myself going a few different ways, but I know today that I made the right decision. I know that Wisconsin is the place I wish I would have gone to if I had gone another way. The campus kind of looks like a paradise to me. I really think Wisconsin is the best college town, and the people are just amazing. Out of all the schools I went to, they just seemed different to me.
You're part of a big group of kids from Michigan who are coming to Wisconsin this year. Do you think the Badgers have a bit more pull in the state now than they did before? With so many Division 1 schools in the state it seems like it would be harder for them to stand out.
Jaylan Franklin: I don't know if Wisconsin is doing anything really different now, to be honest. They're still looking for the people who can grind and work and be successful. I think there's been a shift in Michigan recently. I think people at some of the top schools are realizing that they can be more successful and better off at a school like Wisconsin, and that's why they have had so much success in our class getting a few guys from Michigan. Wisconsin wants to make us better and wants to give us the best chance to succeed in football and in life.
What do you think you'll take away from playing high school football? Is there a game you'll remember or a lesson you learned that will stick with you?
Jaylan Franklin: A lot of things that I'm going to try and hold on to are the times where people on the other team are talking at you and trash talking you. Every single game I played this year there was always one player who would hit me just a little bit harder or go out of their way to get in my head. I think that made me a better player and helped me improve by having to deal with that. That's how it's going to be in college - people are going to chirp and talk but you've got to stay composed and remain who you are.
Who are your favorite football players to watch right now, and what do you try and learn about the game from watching them?
Jaylan Franklin: My two favorite players right now are Cam Newton and Von Miller. I saw Cam's leadership and tired to take that and put that in to my game and how I relate to my teammates and get that energy out of yourself and give it to your teammates. And then Von Miller, he's just a beast. I would love to be even half of as successful as he is - in sports and in life. I think he's a great role model.
In a year from now what would you like to look back on and say you accomplished during your first year with the team? Do you have any goals like that?
Jaylan Franklin: I just want to get adjusted to the game and how it goes - everything is going to be different. I just want to be comfortable, learn the playbook, learn everything. I just want to be super comfortable with everything after a year.
___________________________________________________
John Veldhuis covers Wisconsin football, basketball and recruiting for BadgerBlitz.com on the Rivals.com network. Follow him on Twitter at @JohnVeldhuis.