Waunakee QB Nate Carter accepts Wisconsin's preferred walk-on offer
The pipeline from Waunakee to the University of Wisconsin will continue in the 2018 recruiting class.

Tuesday evening, senior quarterback Nate Carter from the powerhouse high school announced he accepted a preferred walk-on offer from staff member Jon Budmayr and the Badgers.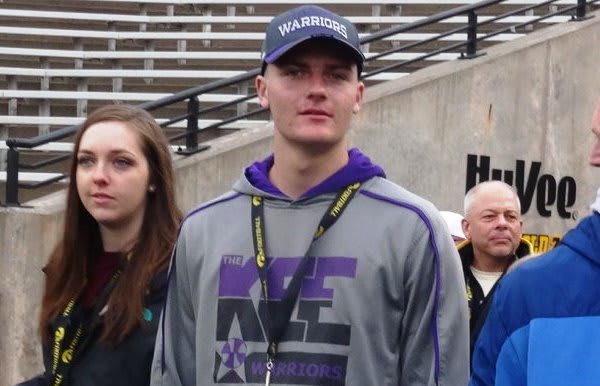 "I didn't hear from UW much until this June," Carter told BadgerBlitz.com. "I went to a camp and talked to coach Budmayr afterward and he said he'd be in touch and watch my senior film. I visited a few times for games this fall and at the Maryland game he told me they really wanted me to be part of the team and offered me a preferred walk-on.
"I'm excited and humbled to keep the Waunakee tradition to Wisconsin going. A lot of the previous Badgers from Waunakee were guys I idolized as a kid, so to follow in their footsteps is amazing."
Carter, a 6-foot-5, 195-pound prospect, will be the second quarterback UW takes in the current cycle along with scholarship signal caller Chase Wolf. Those two will join a QB room that is expected to include Alex Hornibrook, Jack Coan, Kare' Lyles and Danny Vanden Boom next summer.
"Wisconsin liked my frame and the way I throw the ball," Carter said. "They also said that I'd be a good fit because I come from a really good high school program and know how to work and win. Coach (Pat) Rice and the staff at Waunakee instill the ideals of hard work, leadership and preparation, so that will help me a lot when I get on campus.
"Growing up 20 minutes from campus, I've always been a Badger fan. So to be able to realize a dream would have been hard to turn down. I was also looking for a school where I'd get a great education, and there's no better place than UW when it comes to school. I also had offers from Davidson and Sioux Falls. I'd been hearing from a few other FCS and Division 2 schools but I knew that UW was where I wanted to end up."
This fall, Carter threw for over 2,200 yards and 25 touchdowns and was a big reason why the undefeated Warriors captured the Division 2 state title at Camp Randall Stadium.
"This year almost felt surreal," Carter said. "For us to be able to fight through adversity as far as injuries and a couple of other things that impacted our football team was special. The chemistry we had as a team was great and for our senior class to win a state title for the community was the perfect way to end our careers at Waunakee.
"It is a bit of a relief to just be done and know where I'm going. It's also pretty cool to end up at my dream school since not a lot of guys are able to do that."
Wisconsin's 2018 preferred walk-on class also includes tight end Jack Eschenbach, linebacker Marty Strey, fullback/linebacker John Chenal, offensive lineman Andrew Lyons and running back Brady Schipper.