van Vliet commits to Wisconsin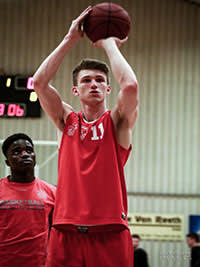 On Monday, the Badgers may have acquired their man. Andy van Vliet a 6-foot-11 forward from Belgium, has committed to the University of Wisconsin, he told BadgerBlitz.com and later announced on his Twitter page.
"I think this is a perfect fit for me athletically but also academically. They do a really great job with both and I couldn't be happier," van Vliet told BadgerBlitz.com. "I met with a lot of people on my visit where I had the honor to meet Chancellor Blank, the Dean of Students, and the chair of the German Department. They really made me aware of what a great academic school Wisconsin is. That is something really important to me as well."
van Vliet currently speaks five languages, and while he said he has not yet decided on a major, he, "really wants to add more to that because I love it."
van Vliet, who will turn 20 in July, also held offers from Oklahoma State, Saint Mary's and Washington State in addition to Wisconsin. For eight days at the end of April van Vliet took his official visits to get a feel for what each program had to offer. He returned home for two weeks to discuss his decision with family members and those close to him.
"When I got home I just wanted to reflect on everything because it has been a crazy adventure for me and my parents," van Vliet said. "I was blown away and had to talk with a couple people who I'm close with and who I can trust. They were just giving me advice on what they thought would be best for me and why. At the end of the day it was still my decision and I couldn't be happier with the one I made."
During his visit to Wisconsin from April 22-24 he got to spend time talking with the coaches, went through a private workout for them, got to hangout with the players, and even scrimmaged with some of them. He knew it was the place for him.
"When I made my visit I felt immediately comfortable with the players and coaching staff," van Vliet said. "The coaching staff has so much experience in making players better and being successful. The players were really great to me, and everybody was really nice. It's one big family that is really dedicated."
That dedication - over the past two seasons in particular - led to back-to-back trips to the Final Four and an appearance in the National Championship Game for Bo Ryan's Badgers. It was success that impressed van Vliet all the way in Belgium.
"It played a certain role, of course," van Vliet admitted. "I'm going here because this is the perfect fit for me to improve athletically and academically, but you can't deny the success they had against some very good competition. That is big as well.
"I have been watching and following them since (the 2013-14 season) and I was immediately attracted to the program," van Vliet continued. "It's actually funny because a couple of months ago I told a close friend of mine that it would be a dream come true if the University of Wisconsin reached out to me. And here we are."
What specifically caught the attention of van Vliet was the way Wisconsin used its big men in an international style of play - particularly Kaminsky. Obviously the consensus First-Team All-American selection, the 2015 Naismith Award, John R. Wooden Award, Oscar Robertson Award and AP Player of the Year Award recipient will not be suiting up for the Badgers next season. Nonetheless, van Vliet, who is known through European basketball circles as "The Belgian Kaminsky," is excited about the prospects his future at Wisconsin holds.
"This is a very exciting opportunity for me and my family. It's a crazy step I'm about to make, but I have confidence in this situation," van Vliet said. "I'm more than excited. I'm really ready for the big challenge and can't wait to get started."
The Wisconsin coaching staff has had some preliminary conversations with van Vliet about the transition he will have to make from playing in Belgium to playing in the Big Ten, but as of now, according to van Vliet, there is no plan to redshirt next season.
van Vliet has yet to speak with members of the incoming class about his commitment, but he mentioned he is ready to get to work and excited to get to know them.
"Anybody that goes to Wisconsin is a good guy."