Trotters want to go out on high note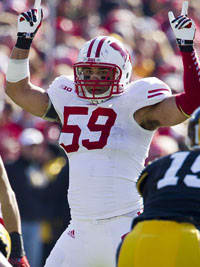 MADISON - The Trotter twins are eager to tackle more responsibilities as their Wisconsin careers come to a close.
The linebacker corps will come under scrutiny with the graduation losses of four standout starters, Chris Borland, Ethan Armstrong, Conor O'Neill and Brendan Kelly.
Marcus, a redshirt senior, said he's not intimidated by added pressure to perform.
"Coming into this whole season not having as many reps as Borland, Armstrong and all those guys, I think it fuels me and Landisch and everyone else to step up because I know a lot of people are saying we aren't going to do as well," said Marcus, who had 23 tackles last season.
"You really shouldn't worry about that, but at the same time, take note of it and that should fuel you with positive energy."
Marcus played in five games and had one start during the 2013 season. He posted a team-high nine tackles at Iowa when Borland was sidelined, and also had nine tackles and recovered a fumble at Illinois.
Meanwhile, Michael is back to full strength after being sidelined one week in camp with a concussion and turf toe. Michael (6-foot, 220 pounds) is getting up to speed with competing at 'rover' linebacker, and due to his speed, defensive coordinator
Dave Aranda
now is putting together schemes to use him at 'mac' linebacker.
After playing safety throughout his collegiate career, Michael made the switch to linebacker this spring. He's relished the position change, and despite the concussion, feels confident with his progress. Fine-tuning skills at 'mac' are Michael's main objectives heading into the LSU game Aug. 30 in Houston.
"I feel like I know the 'rover' pretty well now," Michael said. "Coach told me he wants me to learn the mac, also, so I'm taking on a whole different challenge. Now I have to learn everything. I just need to know what I'm doing with confidence."
Meanwhile, Marcus (6-foot, 226 pounds) said he'll bring a high IQ to his position, despite his lack of speed.
"I know I'm not the fastest guy, but one thing that separates me from most people is my intelligence and brain," Marcus said.
"I can pick up offensive tendencies, so even though I don't run the fastest 40 (yard dash) time, I can get there faster than most people because I know what they're going to run."
Marcus said he's thrilled to see his twin's transition and evolution at linebacker, and if Michael stays healthy, has no doubt that two Trotters are better than one.
"He adds speed and athleticism to the position," Marcus said. "Third downs and stuff like that, he'll be coming in for me.
"It's the best of both worlds, having the bigger Trotter in for run downs and the faster Trotter in for pass downs. It's kind of good. It's going to be a good system."