Notes: Bobby Engram on quarterbacks, coaching from the booth, Guerendo
MADISON - Offensive coordinator Bobby Engram met with the media on Tuesday for the first game week of the season. He addressed a number of topics, including the situation at quarterback, the tight end group, and Isaac Guerendo returning kickoffs.
Quarterbacks in flux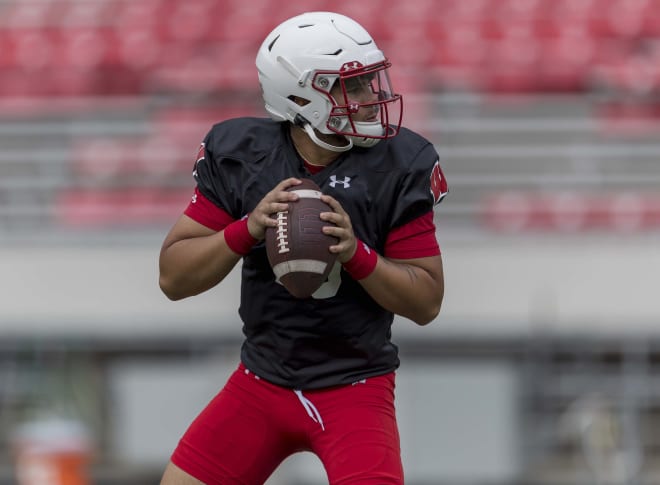 Wisconsin's quarterback room was dealt a somewhat serious blow when backup Chase Wolf tore his meniscus. He'll be out for considerable time, and his absence leaves Graham Mertz as the only quarterback on the roster with game experience.
"We're making sure we're supporting Chase and what he's going through. It's not easy for him, it's a tough situation," Engram said.
With Wolf out, Mertz at least appears to be the Badgers' only game-ready signal caller. One is better than none, but injury could strike at any time. But the idea that if Mertz gets hurt, Deacon Hill or Myles Burkett would be the starter doesn't change the way Engram will manage his quarterbacks.
"We have to approach the game how you always approach it. We'll be thoughtful of (the increased need for Mertz to stay healthy), we'll be mindful of that in as many ways as we can, but I don't think any player can go into the game, playing this game of football, with any hesitation."
Mertz himself echoed this sentiment when he spoke to the media on Monday. The concern is completely justified, but the Badgers can't afford to play with any hesitation.
With Wolf out of the picture, the conversation turns to the players behind him, Hill and Burkett. Throughout fall camp, Hill was the third stringer, followed by Burkett. Still, the new backup spot hasn't been given to anybody.
"Right now it's a competition," Engram told reporters. "Those guys know it, they're practicing hard, and it's a great opportunity for everybody to continue to elevate their game."
Burkett didn't get any reps in the open practices of fall camp, and Hill's were few and far between. Still, Engram reiterated "It's undetermined, we'll kinda see how the week goes, how it progresses along."
Wisconsin can worry about its backups all day, but it still has a starter who has something to prove. Coaches have praised Mertz for his approach and his work ethic to improve in the offseason. Engram mentioned specifically working under center and decision making as key areas of improvement:
"No. 1, I think Graham's a worker. Any time you're a consistently hard worker, you have a chance to improve. No. 2, we've done a lot of stuff under center, that's been a point of emphasis this offseason so you see improvement there and I think that helps with timing. And then just continuing his decision making, all of those things help a quarterback be successful."
Skyler Bell emerges as the No. 2 option
All of Wisconsin's wide receivers made head-turning plays during fall camp, but redshirt freshman Skyler Bell has emerged as the No. 2 wideout alongside Chimere Dike.
"(He) consistently made plays. When you look at Juice's body of work this summer, and over training camp, you just love his approach," Engram said. Indeed, the receiver consistently made plays, and he was consistently first up with the starting offense in the fall.
"I think something that jumps out is his strength of play, him making strong plays on the ball," Engram added. "But I think the number one thing that you look for is the consistency with which he made those plays."
Coaching from the booth
On opening night, Engram will be the only Wisconsin coach stationed in the booth upstairs. We're seeing this more and more with primary play-callers across football, but it's still new to Engram.
"I'll have to get back to you on that one. It's new territory but I enjoyed it the couple times I went up there. It allows you to see things from a different perspective, obviously, it allows you to communicate differently in between series."
The Badgers offense will be under heavy scrutiny, even against Illinois State, as they try to become more dangerous in the passing game and more balanced overall. Expect Engram to stay in the booth as long as the offense is executing.
Tight end group
Engram, the former Baltimore Ravens tight ends coach, likes what he sees at that position so far. It's a room that doesn't have a clear leader, like it did when Jake Ferguson was in Madison. But it's got a stable of guys that look ready to contribute in their own way.
"I like our group at tight end. Clay, Hayden, Esch, even Jaylan and our young guy Jack. I think Chris Haering has done a great job getting those guys to prepare," Engram said. "They're constantly working on their footwork in the run game and their fits, they really work hard to finish. Each guy has a little different skill set, but each guy can help our offense be successful."
On the Badgers first depth chart of the season, Clay Cundiff was listed as the starter, followed by Hayden Rucci. That's not where the group of guys ready to play ends, though.
"(Eschenbach) can run, he's got speed," Engram added. "He's a worker, he's physical, he's not afraid to throw it in there. He attacks practice every day, with a workman's mentality to get better."
The fifth-year senior Jack Eschenbach was finally healthy and full-go for fall camp, and he should find a way to contribute this year with his field-stretching ability.
Isaac Guerendo returning kicks
An under-the-radar but intriguing component of the Badgers opening depth chart was the starting kick returner, Isaac Guerendo. The running back is a threat to take it to the house any time he touches the ball, although those touches have been limited the past few seasons.
"I mean, speed, power, explosiveness, what's not to like?" Engram raved. "He's a talented guy that we like a lot, so we're trying to find ways to get the ball in his hands."
With how impressive Guerendo has looked coming off his injury this fall, he still plays third fiddle to Braelon Allen and Chez Mellusi. Returning kicks is a great way to get him the ball in the open field where he's most dangerous.