Marty Strey is Wisconsin's first preferred walk-on commit in 2018
Nearly every preferred walk-on signee in Wisconsin's 2017 recruiting class turned down scholarship money in order to play for the Badgers.
It appears that tradition will carry into the current cycle.
Saturday, Marty Strey, an in-state linebacker from Sun Prairie, chose a walk-on opportunity from UW over an offer from North Dakota and strong interest from schools in the Ivy League.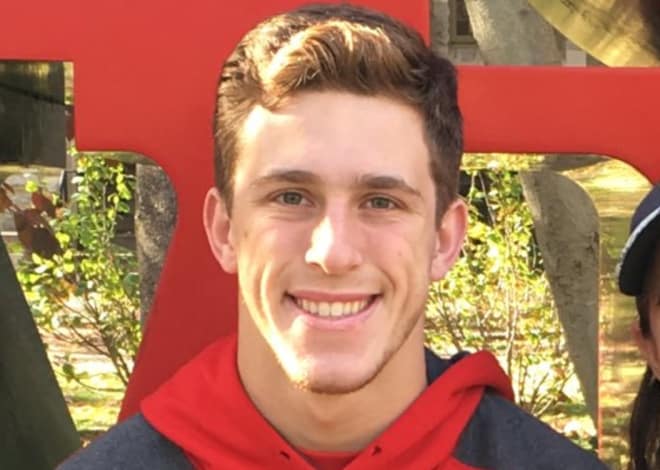 "Well, my mom played soccer at Wisconsin back in the early 1990s when they were really good. And my dad's side of the family is from Wisconsin," Strey told BadgerBlitz.com. "So I was born and raised a Badger fan. It's been a dream of mine since I was a kid to get the opportunity to play for the Badgers.
"I'm very thankful for the opportunity North Dakota gave me, but it was a no-brainer to choose Wisconsin."
A 6-foot-3, 205-pound senior, Strey, who was also hearing from Minnesota, Iowa, Harvard, Cornell and Princeton, attended Wisconsin's game against Utah State Friday evening.
"I had been in some contact with Wisconsin since last fall when I took an unofficial to the Nebraska game," Strey, who carries a 3.94 GPA and a score of 30 on the ACT, said. "I then attended their camp over the summer and have been in contact with one of their coaches. But when I took an unofficial to the game a couple days ago the last thing I was expecting was to be offered a preferred walk-on spot.
"I was talking to Coach (Chris) Haering, my recruiting coordinator. He just said he was impressed with my film and they had been keeping tabs on me and that they wanted me to be a part of their program as a preferred walk-on."
Last fall, Strey, who had 72 tackles and seven sacks in 2016, was one of just four juniors on the defensive side of the ball to receive WFCA All-State honors. So far he's helped Sun Prairie to a 3-0 start in 2017.
"It's nice knowing I can now focus solely on my senior season of high school," said Strey, who has 16 tackles, including three sacks, this year. "There's nothing like Friday night lights, so I'll enjoy it. At the same time it's a great feeling to know that I will have an opportunity to play for Wisconsin - I just have to work exceptionally hard and see what happens.
"When I verbally committed the coach said we would talk a little more later in the week about my projected position, so I'm not completely sure. But I'd like to say I'm a pretty versatile player. I can play inside or outside (linebacker), drop in pass coverage or blitz. So we'll just see what happens."
In addition to Strey, the Badgers currently have 18 scholarship commitments in the 2018 class.