California ATH John Torchio "willing to bet on himself" at Wisconsin
John Torchio, a California legacy, recently earned a full scholarship offer from the in-state Golden Bears.
But an opportunity to travel across the country and walk on at the University of Wisconsin was too much for the Moraga High School (Calif.) standout to pass on.
"It's an opportunity I couldn't turn down," Torchio told BadgerBlitz.com. "It was a hard decision. It was actually really tough for me and it took a lot of thought.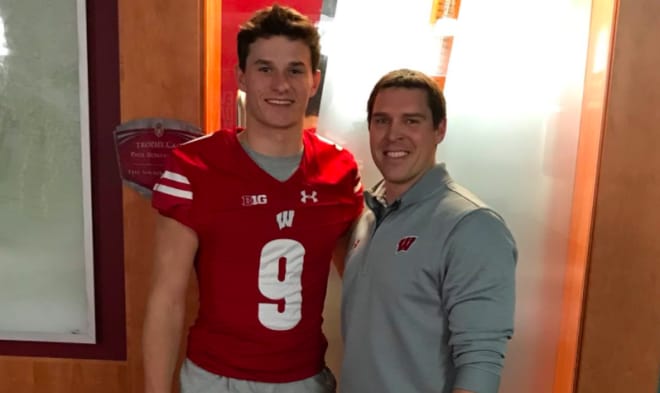 "I know it's a risk, but I'd bet on myself any day. I see that as an opportunity."

A 6-foot-1, 180-pound projected safety, Torchio does have a family connection to UW. His sister, Katharine Torchio, is s senior on the Wisconsin soccer team.
"My sister players soccer there, so I was familiar with the school," Torchio said. "She was super biased; she said everything to try and get me to go there. But she was a huge help for me and she answered all my questions. She's really excited for me."
A two-star prospect, Torchio camped at Wisconsin this past summer but was aware the staff already had a commitment from safety Reggie Pearson. It was there, though, that he met defensive coordinator Jim Leonhard, his future position coach.
"I went to the camp and talked to coach Leonhard a little bit," said Torchio, who also had scholarships from Air Force, Army, Dartmouth, Rice and San Jose State. "At the time, they already had their safety (Pearson), so I knew I was going to have to walk on.
"But Wisconsin was the only school that I knew that I would have walked on at. So I contacted (quality control) coach Matt Miller and spoke to coach Leonhard again. They got me on campus for an official visit this past weekend and that's when I committed."
A two-way standout in high school, Torchio completed 226 of 353 attempts for 3,314 yards and 37 touchdowns at quarterback. He also rushed for 761 yards and 11 touchdowns on the ground. His future position, though, is in the defensive secondary with Leonhard.
"Safety, for sure," Torchio said. "Hopefully I can help on special teams during my first year, but I'll play safety. Coach Leonhard loves that I'm able to play multiple positions and said that I really understand the game and I'm a smart player. He also liked that I'm willing to bet on myself because that shows confidence and my character."
Torchio, the son of J Torchio and grandson of Lloyd Torchio (played for the Bears in 1947), is the eighth known preferred walk-on in UW's 2018 class, along with Jack Eschenbach, Marty Strey, John Chenal, Andrew Lyons, Brady Schipper, Nate Carter and Mike Gregorie.