Jaylan Franklin commit: What does it mean for Wisconsin?
Wisconsin picked up verbal commit No. 12 in the class of 2018 on Monday from Gibraltar (MI) Carlson High School tight end Jaylan Franklin.
Here are 10 quick takes and some analysis on what Franklin's commitment means to the Badgers.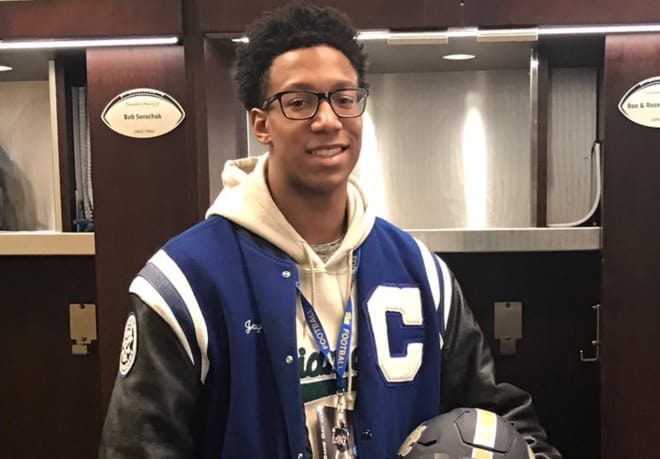 1. Another Michigan standout in Wisconsin's 2018 class, which makes three for the Badgers, along with Reggie Pearson and Michael Furtney. I think back to when DelVaughn Alexander and others recruited the state under Bret Bielema without any success.
Mickey Turner, however, in just a short amount of time, has given UW a strong presence in the state. He signed Scott Nelson in the 2017 class and the Badgers also have a chance to land receivers Taj Mustapha and A.J. Abbott, both of whom were offered at camp this weekend. DeAndre Square, Elijah Collins and Davion Williams are realistic options as well.
2. Speaking of Turner and the excellent work he's done in Michigan, could he be transitioning more to the East Coast? In the 2018 class and beyond, Turner has been more active in New Jersey, New York and other spots on the coast. Since Bob Bostad joined the staff, he's be assigned Michigan and Indiana on the recruiting front. It would be a mistake for Turner to completely abandon the Wolverine State.
3. How will Franklin fit at tight end? Most schools viewed him as a outside linebacker but UW, which is close to full at linebacker, found a spot for him in this class. During Friday's camp, his route running needed improvement but the 6-foot-4, 210-pound prospect was explosive and caught the ball well.
"I felt very comfortable at tight end and I love catching the ball. I feel I have a huge advantage being tall and previously playing wide receiver," Franklin told BadgerBlitz.com. "I will have a speed boost on some of the slower linebackers."
4. Franklin talked a lot about wanting to secure his spot in Wisconsin's 2018 class. A big reason for that: Northwestern was full at the "superback" position, possibly when Franklin tried to commit earlier in the process.
"I think I wanted to secure my spot more than anything," Franklin said. "I had already missed out on an opportunity with Northwestern filling up their class. So I wanted to jump on this as soon as everything felt right.
"I feel like the schools who have wanted me most have been doing just that. After the visit to Wisconsin I felt best with making this decision."
5. Would a Notre Dame offer down the road change things? After Friday's visit, Franklin said he was either going to commit to Wisconsin or camp at Notre Dame in hopes of earning an offer later in the month. He chose the first option, but who's to say the Irish won't come calling later in the process? Anything can happen, but Franklin is saying the right things at this point.
"I'm done with all visits and camps," Franklin said. "I will be focusing on my school and getting ready for my senior season.
"I feel amazing having made this decision. Most kids love the recruiting process but not me - it's stressful and you have to be tough and stay strong. It was hard saying goodbye to all of the coaches I've met, but I have to do what's best for me and that's been my motto throughout this thing. I feel great and I can't wait to see what's next for me."
6. Franklin, a projected H-back and Cormac Sampson, who could grow into an in-line tight end, could compliment each other well in this class. Being recruited as an athlete, Sampson worked alongside Franklin at Friday's camp. Will he stick at tight end or begin on the defensive line?
7. Staying with our Michigan theme: Over/under on signees from the state in Wisconsin's 2018 class if the line is 3.5? I'll take the over.
8. This could be the perfect time for Wisconsin, and other schools, to raid Michigan. The Wolverines are recruiting nationally and the Spartans are in turmoil. Both programs are going to keep certain kids inside the state, but both Franklin and Furtney had offers from State and there is plenty of talent to go around.
9. 2018 commits by position
10. Where are they from?
5 - Wisconsin
3 - Michigan
2 - Ohio
1 - Texas
1 - Illinois