In-state OL Sean Timmis gets firsthand look at Wisconsin
The Wisconsin coaching staff has already taken advantage of a deep group of junior offensive linemen from inside the state with early commitments from Trey Wedig (Kettle Moraine), Ben Barten (Stratford) and Jack Nelson (Stoughton).
Another from that group to keep an eye is Sean Timmis, a 6-foot-5, 260-pound prospect from Marquette University High School who was on campus Saturday for an unofficial visit.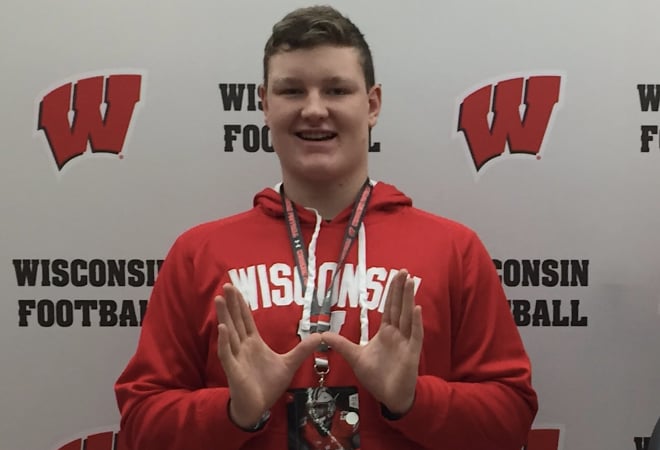 "The Wisconsin visit was great," Timmis told BadgerBlitz.com. "We walked in, picked up our credentials and walked right downstairs to the weight room where we ate and talked to coaches. I talked to some of the recruiting staff and then I got to talk to coach (Joe) Rudolph. He said he really liked my film and said he was going to come visit me at Marquette.
"After lunch we walked outside to the field and watched warmups. There I talked with some more of the recruiting staff and then we took our seats and watched the game. Usually linemen are the last to come out for warmups but coach Rudolph has them come early to work on technique. I thought this was cool because it shows the emphasis Wisconsin has on its offensive line."
Still early in the process, Timmis is building on his relationship with Rudolph, who currently serves as UW's offensive line coach and coordinator.
"Our relationship is pretty good," Timmis, who Wisconsin projects to play guard, said. "Him and I coordinated over Twitter after the visit and he said he loved meeting me. He can't wait to come visit me at school and he wants to talk later this week. I love his coaching style and how he crafts his linemen.
"I talked with some of their staff and they told me I'll be invited up for basketball games, hockey games, junior days and they also said they would have me up to workout with Coach Rudolph this summer."
Outside of the Badgers, Timmis, who helped the Hilltoppers to a 12-1 record this fall, is hearing from a handful of other schools.
"Northwestern, Notre Dame, Air Force, Miami (OH), Northern Illinois, Army and a lot of other MAC and Ivy League programs," Timmis said. "Earlier this fall I went to Notre Dame and it was great to see the atmosphere that Notre Dame has. Every seat in the stadium was packed. The tradition of that school is unbelievable. As of right now, I'll most likely make another visit there this spring.
"I'll definitely be at Northwestern and Miami (OH) coming up. Then I'll also probably hit Central Michigan, NIU and hopefully Syracuse. And, of course, Wisconsin."