In-state ATH Mike Gregoire grew up "with Wisconsin in his blood"
Mike Gregoire will follow in his father's footsteps at the University of Wisconsin.
Saturday, during an official visit to UW, the 2018 in-state athlete committed to the school his dad, standout kicker Todd Gregoire, attended from 1984-1987.
"I've always grown up with Wisconsin in my blood with my dad having played for them," Mike Gregorie told BadgerBlitz.com. "But just the culture of Badger football really peaked my interest the most.
"I felt that it was the perfect fit for me to grow both on and off the field."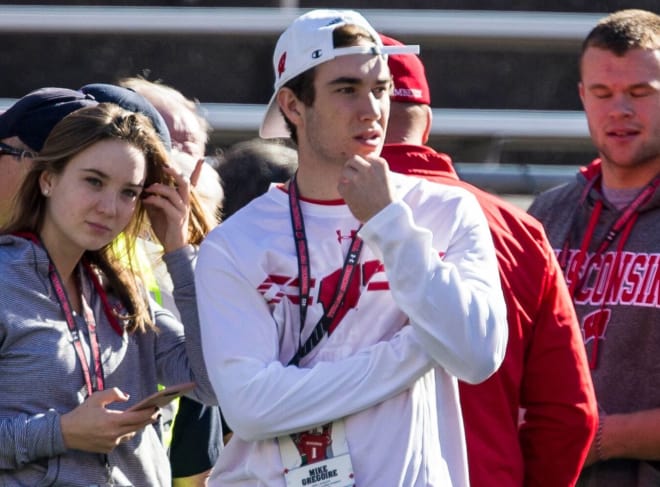 A 6-foot, 175-pound senior from Green Bay Notre Dame, Gregoire was on campus this weekend with preferred walk-on commits Jack Eschenbach, Nate Carter, Andrew Lyons, Marty Strey, John Chenal and Brady Schipper, as well as top target Maxwell Janes.
"Wisconsin's interest started at the beginning of my football season this year - they showed interest and I had a great experience on some of the game-day visits," Gregoire said. "Then later on, after some of the bigger games this year for the Badgers, I was admitted into school. Once that came so did the preferred walk-on offer.
"My family and I had a great time this weekend. It was really cool to get a preview of some of the best facilities in the country, as well as some great coaches. It was good to start making a connection with the coaching staff. But it was just overall a really fun time to be on campus and get a feel for my new home next year."
Gregorie, who could play on either side of the ball at the next level, rushed for over 1,000 yards and 18 touchdowns this fall. He also had 39 receptions for close to 500 yards and three scores through the air.
"Wisconsin said they like my explosiveness and my toughness," said Gregoire, who was also hearing from Iowa, Northern Illinois and Minnesota. "They said they saw a passion for the game within my play. When I get there, I'll either be a slot receiver or safety."
The Badgers currently have 19 scholarship commitments in the 2018 class.