Howe commits to Chryst, Part 2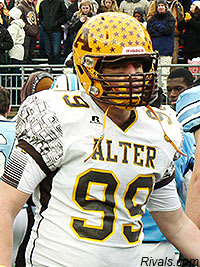 In June, the 6-foot-3, 265-pound senior from Kettering (OH) Archbishop Alter verbaled to Pittsburgh. But after decommitting when Chryst left for Wisconsin, Howe once again found himself in a similar position during his official visit in Madison.
"It was kind of funny, because coach Chryst said this commitment was more exciting than the first time," Howe told BadgerBlitz.com. "We were sitting down in his office and talking about football and all sorts of stuff. Coach is a great guy; he's real and not just a business man. I feel like he does everything the right way and he was really pumped.
"To be able to play for the coaches that I wanted to play for at a place like Wisconsin, not everyone gets that chance. It was the perfect combination of everything and it all worked out in the end."
Howe officially backed away from his pledge to the Panthers on Jan. 14 and after he picked up an offer from the Badgers, it was assumed he would be part of UW's 2015 class. That script maintained itself this weekend.
"I came in kind of knowing what I wanted to do, but it was more just getting on campus and making sure it was the right fit for me," Howe said. "I talked to all the coaches about where I fit in the program and where I fit in the defense, and it all just made sense. I just had a feeling that it was the right choice.
"I walked around the campus a lot and got a great feel for that and we toured the city. I just looked around and felt that this is a big stage and the best place for me to attend school. It was more just a visit to feel comfortable and make sure everything was good for me and my family."
"I talked to coach 'Nokes with my parents and coach Chryst," said Howe, who racked up offers from Minnesota, Northwestern, Iowa State and Boston College, among others, during his recruitment. "My mom knows football pretty well and she actually had a lot of questions. Coach told me that he could see me working from the outside and moving inside once I get bigger.
"They think I'll start right away at a 5- or 4-technique with the potential of moving inside. I played tackle in high school but that was more because of the need for my high school team. The coaches think I'm athletic and have good technique, so I have more than just a bull rush inside. Anywhere from the 3- to 5-technique I can play, and I really feel like this is the best defense for me moving forward."
"It was the four of us and I really hit it off with Alec, he's a great guy," Howe said. "I'm really pumped to play with him. The other two, I'm not sure if they are going to commit to Wisconsin, but I could see it. It's a great place to be and I don't see why they couldn't want to be part of it.
"They are great people and Wisconsin and this staff, they don't ask you to come up for a visit if you're not a quality person. You have to be a good person and a good athlete, so I think it's a compliment to them that they were asked to come up for an official."
With Howe, the Badgers currently have 26 commitments in the 2015 class.