Badgers extend preferred walk-on offer to in-state LB Jackson Kollath
Jackson Kollath missed much of his junior season due to injury, but that hasn't stopped the recruiting process for the 2019 in-state athlete from Sussex Hamilton High School.
Instead, Kollath, a 6-foot-2, 230-pound prospect, has used this spring and summer to pick up scholarships from Augustana, Bemidji State, Minnesota-Duluth and Nebraska-Kearney. And on Friday, Wisconsin extended a preferred walk-on opportunity after Kollath's strong camp performance this month.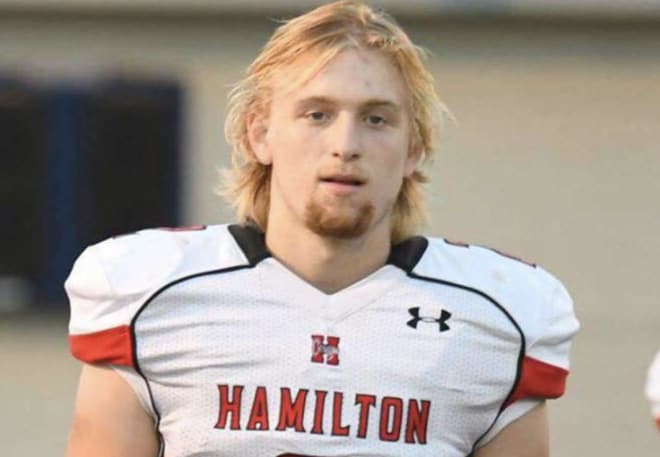 "I have a few offers from some Division 2 schools and have been talking with a few FCS schools such as North Dakota and South Dakota State," Kollath told BadgerBlitz.com. "With Wisconsin, I had talked to some of the coaches prior and they invited me out to their camp in June. I went and just gave it my all, but nothing really happened in the weeks to follow. Then just a few days ago one of the coaches there texted my head coach the news about the walk-on offer."
In April, Kollath tested extremely well at the WFCA Combine with a 4.5-second 40-yard dash, 4.34-second shuttle and 17 reps at 185 pounds on the bench press. In Madison, he ran a 4.45-second 40 in front of the Badgers' coaching staff.
"I'm absolutely interested in the walk-on offer from Wisconsin," Kollath said. "My mom and my grandfather both played sports at Madison, so it's kind of been a dream to play there.
"I just love the energy at Wisconsin. Camp Randall during game time seems like one of the most incredible experiences ever. Most schools want to me play linebacker but I have a few that would want me to play fullback. Wisconsin never directly said what they wanted me to play."
With a focus on putting more on his tape for college coaches this fall, Kollath isn't in a rush to make a decision.
"It was extremely hard to miss time last year, not just for recruiting but because I wanted to be able to play football," said Kollath, who recently visited North Dakota. "While it did impact my recruiting immensely, all I wanted to do was just go out and play. A lot of teams just want to see how I play on the field.
"I would like to play out my senior season before deciding."
In the 2019 class, UW has also extended a preferred walk-on offer to in-state athlete Derik LeCaptain.