Badgers backfield needs depth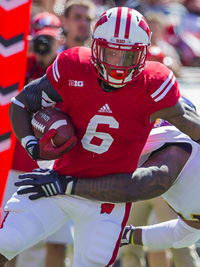 MADISON, Wis. - For the first time in what seems like several years the Wisconsin Badgers are thin at running back.
No,
Melvin Gordon
and
Corey Clement
aren't hurt. But the Badgers sustained four separate injuries at tailback and fullback over the last few weeks, which forced them to shuffle their backup plans as they try and rebound from a disappointing performance on the ground against Western Illinois.
"[Injuries] are part of the running back position. It's a violent spot," Brown said Tuesday. "You're either getting hit every single play or being asked to hit somebody. I think it naturally happens, but we're trying to make the best of the opportunity we have."
Ogunbowale, a sophomore from Milwaukee, has been moved from defensive back to running back for the time being to help the Badgers run normal practices without sticking Gordon and Clement with extra carries. For his part Ogunbowale said he played running back every now and then in practice when he was attending Marquette High School, so the position isn't entirely new to him. But the coaching staff likes how he moves in space, and Ogunbowale said that played a big part in his switch to offense.
"We have a drill here called 'Speed in Space,'" Ogunbowale said Tuesday. "Coach Andersen watched it and I was one of the guys who was really tough to bring down. So Coach Andersen came to me and said 'We feel like [you] could be an asset to have on the offensive side of the ball.' And I was all for it. I'm just putting the team before myself and trying to help the team win."
"Football is football. I'm trying to get the ball on defense and now I'm given the ball. I'm running with it."
Brown praised Ogunbowale's work ethic, but if the Badgers needed a third tailback in a game Brown said he would put Austin Ramesh in first. Ramesh is currently listed as the team's starting fullback with Watt and Straus out, but the freshman from Land O' Lakes, Wis., took a lot of reps at tailback a few months ago when the Badgers held Gordon and Clement out of most of spring camp.
If they had to use Ramesh at tailback the Badgers would either replace him with fellow freshman
D.J. Spurling
or move a tight end back to the fullback spot to act as a lead blocker. As of now the second options seems the most likely.
But first and foremost the Badgers need Ramesh to try and replace Watt, who paves the way as an effective lead blocker on running plays when he is on the field. Ramesh already has a game under his belt, and Brown said Ramesh has performed well for a freshman, even if he can't replace Watt completely.
"[Ramesh] has done a really good job, especially for a new guy," Brown said. "He doesn't have the same kind of experience as [Derek Watt], but he's a willing worker."
To be sure, another injury at running back would be tough for the Badgers to stomach. So far they have adjusted their backup plans to prepare for the worst, but for now they will have to hope that they won't have to use them.
John Veldhuis covers Wisconsin football, basketball and recruiting for BadgerBlitz.com on the Rivals.com network. Follow him on Twitter at @JohnVeldhuis.