2023 WR Trech Kekahuna makes the trek from Hawaii to Wisconsin
Trech Kekahuna's first recruiting visit was a memorable one.
Not only was the 2023 wide receiver able to connect with his former high school teammate and good friend Nick Herbig at the University of Wisconsin. But the 5-foot-11, 185-pound also traveled over 4,000 miles from his home in Hawaii in order to spend the weekend in Madison.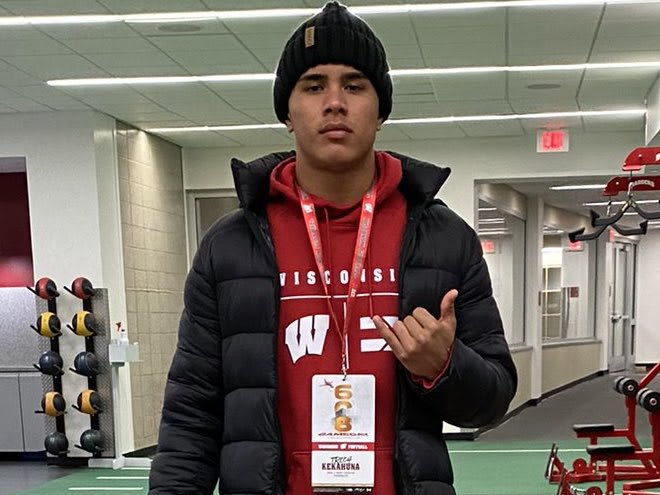 "This is was my first recruiting visit, so it was special to me," Kekahuna told BadgerBlitz.com. "Nick helped set up the visit and Coach (Booby) April said it would be nice if I would go out for an unofficial visit to Wisconsin.
"Nick and I have a very close relationship. I played varsity football with him when I was in 9th grade and we've always just been hanging out together. He's a big part of my recruitment because I sent him my film and he was able to get it to the Wisconsin coaches."
Kekahuna, from St. Louis High School in Honolulu, arrived on Thursday for a tour of the facilities. He stayed through the weekend and was in attendance for Wisconsin's 35-28 win over Nebraska.
"The weekend went really well. I met the coaches on Thursday for a private visit with Nick and Coach (Eric) Johnson," Kekahuna said. "We got to go around and see the facilities - the weight room, meeting rooms and the stadium. The game on Saturday was wild and crazy. It's a way different experience than Hawaii because of the 80,000 people at Wisconsin. It was great to see how the fans gets nuts for every play the team makes. They really show a lot of love to the team.
"The coaches gave me some good feedback. They said that they love my film after I sent it to them about a month ago. They think that I can play ball there but I need to just keep grinding and one day they might come offer me."
At this point in his recruitment, Kekahuna, a 5-foot-11, 185-pound projected receiver, has an early offer from Hawaii with strong interest coming from schools closer to the West Coast.
"I'm hearing the most from UNLV, Washington State, Boise State and Hawaii," Kekahuna said. "I want to see a lot more schools. My next visits will probably be to Washington State and UNLV.
"The offer from Hawaii was really crazy because I was very young at the time. I have to wait and see if I get more, but Hawaii was a great offer for me."
Kekahuna's first experience in the state of Wisconsin has him thinking about making the 4,000-mile trip again at some point in his recruitment.
"My interest is really high in Wisconsin because I like how all the players have a good bond with each other," Kekahuna said. "Nick loves it here and it would be really nice to play out here if I get the chance."